We just got our first Keto Krate delivery!! I just love how they deliver new keto products to my door each month. All snacks are 5g of carbs or less and gluten free. Sorry, Tori, people food only!!
They added coupons in case I want to order more of anything included in the shipment. Credits to my son for doing the "unboxing" for me until I get over my camera shyness.
Whats inside:  Loca Chocolate Chip Cookie, Rawxies Smoked Paprika Crunch trail mix, ChocZero ChocoNite Sugar Free Hot Chocolate, Keto Carny All Natural Beef Jerky, Tomer Kosher Original Beef Stick, Bacon's Heir Pork Clouds, Rosemary & Sea Salt, Sarayo, Original Sauce: Creamy, Spicy, Umami, and Oloves Chili & Oregano Snack Olives!  
Yes, we devoured the cookie first and yes it was magical.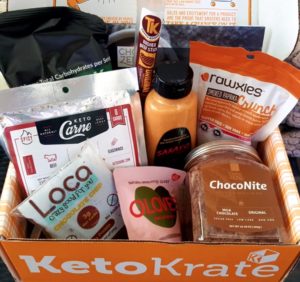 Keto Krate facts:
-Always Low Carb: All snacks in Keto Krate have less than 5g of carbs per serving. Often much less.
-Gluten Free
-Natural Is Better: "Nuts, dried meats, dried cheeses and more. If it's natural and low carb it's at the top of our Keto snack list."
-No Contract / Money-Back Guarantee: You can cancel at anytime, there's no long term contract. And your satisfaction is guaranteed!
-NO MALTITOL / NO ASPARTAME
Order yours here: